Home. Lots to blog.
Lots.
Where to start? So much extraordinary stuff.
A few completely unstructured thoughts, plucked from my late night notes:
- The closing panel -
Dave Winer
,
Tony Perkins
(side by side!),
Michael Gartenberg
,
Rebecca Lieb
,
Jason Shellen
- moderated by the wonderful
Kathleen Goodwin
.
Phew!
- Tony Perkins' moment of epiphany on the same panel
- The palpable chill descending over the whole room at TP's response to my "who owns the content" question...
- Earlier in the day the thoughtful, thought-provoking, and just plain
right
speech given by
Christopher Lyndon
(great coverage of this, and just about every other word uttered in the entire 48+ hours,
over here
)
- Last minute discussions with
Doc
,
David
, Kathleen and others about the need to push the conference format next time around. We talked about having a huge group blog or Wiki set up for all attendees to play with - like the IRC channel that spontaneously erupted early on Monday, but with added mojo. I think they should do a conference-in-the-round. Maybe even mike the entire audience for some of the sessions - give everyone a lav mike (and a handful of aspirin). Allow attendees to IM an anonymous host, and have the messages pop up on the big projection screen (moderated, of course).
- The extraordinary passion of almost everyone there...the feeling of participating in a pivotal event, an inflection point. There was a sense of breathless enthusiasm in the room. At some point, an audience member called out that what we had going was "a happening". Felt right (although see my "
Love In
" post below for a tiny bit of the flip side feeling).
- Getting to meet Neil McIntosh, Deputy Editor, Online at
The Guardian
- which has been for a long time and is
still
the finest newspaper in the known universe. Neil rocks. The Guardian ditto. All, IMHO, natch. He was also kind enough to answer my questions on the true story behind this rather *ahem*
interesting approach to sports reporting
from earlier this year.
- Getting to sit next to Bob Frankston at dinner on Monday night.
Bob
freaking
Frankston
, fercrissakes. I had dinner with
Bob Frankston
! I sound like a gushing preteen ninny, I know (damn - I
feel
like a gushing preteen ninny), but this guy, together with
Dan Bricklin
(who I also got to meet) is father to my entire career. Between them, Bob and Dan created
VisiCalc
, the first spreadsheet program - and the first business app I really got to know.
One of my earliest business computing experiences was working on an Apple IIe at Oxford Exhausts - an auto parts company where my Dad was production manager. I worked with
Tony Guy
, building a labour reporting and production control system in VisiCalc. This whet my appetite to get into the IT biz full time, and set me on the path to where I am now. Thanks, Dan & Bob.
Dinner with Bob was an intense experience. He has a very, very interesting mind - as you might imagine. One of those refreshingly challenging conversationalists who likes to work hard at the conversation, and expects you to do so too. Bob has some unusual, provocative, and inspiring ideas about the nature of evolution - tough to paraphrase in short form here, but basically: we're all digital, it is a Matrix, but that's OK 'cos we created it...
Dan also shot some splendid pics of the conference and dinner, including this one of the panel I was on:

(click through to
Dan's site
for the names and for his absolutely spot on comment about fellow panelist Beth Goza).
And then there's this one: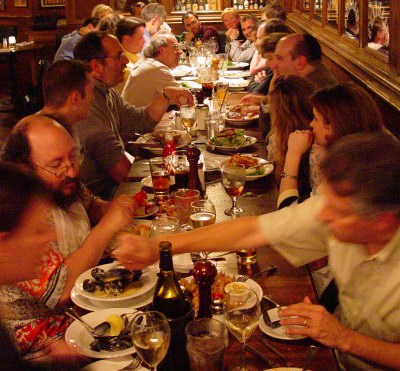 Which shows one hell of an interesting group. See if you can spot
Doc
(going for the mussels),
Jason Shellen
,
Michael Gartenberg
,
Denise Howell
,
Rafat Ali
,
Vin Crosbie
, Rebecca Blaw,
Jeff Jarvis
, and (in order)
Dave Winer
,
Bob Frankston
, me, and the back of
David Weinberger's
head - all of us squished in together with a bunch of other worthies, notables and like minds.
Oh crap. This is just turning into
"your usual blogrolling ass-kissing huggyfest note"
. True. I'm a shameless name-blogger. What the hell.
Three more samples of fawning blog-dahling crap, then I'll shut up. Promise:
1. Got to chat, briefly, with
Gawker.com's
Elizabeth Spiers
, who is as gorgeous as she is smart and can write like she's peeing Tiffany diamonds onto the page.
2. A lovely moment in the Sheraton bar before leaving - Martin Röll passed his tablet PC around for us all to autograph. Great bloke. Beautiful eyes.
3. Shared a cab back to Logan with Google/Blogger's
Jason Shellen
. Good to know my blogging tool of choice is in such safe hands. Jason's a level-headed, razor sharp guy. I liked him a lot. Not least for his suggestion I should rename my blog to "goodflack.com". Heh, I'm immensely flattered.
[I notice from his blog, btw, that he's now temporarily camped out at
The Paramount
in NY, which is where Sausage and I stayed for her 30th birthday (the perfect long weekend: Zeffirelli's Traviata at the Met + Sunday in the Met museum + dinner at The Grammercy Tavern + shopping at FAO Schwartz)]
That's all for now. I wrote a ton of other stuff while hanging around at Logan for my flight home last night - will clean up and post the coherent bits later.